These words mean quite a lot these days to me...
Two weeks ago, I fell and injured my arm while learning to roller skate. No, I was not going fast, and yes, I was being very careful and only skating at our street back and forth... But I managed to fall all the same, and I injured my elbow. The moment I hit the floor I knew there was something wrong in my arm, but I just came home quietly without saying a word and tried to make it all go away with some ice-patches.
Well, the pain did not go away after two very "cold" hours, so I had to face the truth and get to the hospital. the news weren't all that bad... There was no fracture in the X-rays or CAT scan, but there was some serious soft tissue damage, therefore I was bound to wear a cast for at least two weeks. Two weeks! A time when I was not able to knit... and I could only type with my left hand.
So, now that these 2 weeks are over and my cast has been removed, and even though my arm still hurts a great deal, I feel I am On the Road Again, dreaming of casting on 1,000 new projects and making new dreams come true...
Yes, I am taking my pictures at my street again... It's just so much easier! lol
This sweater will soon become a staple in anyone's wardrobe with its classic lines and casual beauty.
It is worked from the top down, in the round. The cowl neck is detachable, giving you options for cooler or milder days. The handy front pockets are a great addition for storing your travel card or your cherry lip balm, but they are optional, so you can keep your sweater without them if you prefer…
All in all, On the Road Again is your perfect travel companion, but it is also perfect for staying inside on a chilly day.
Don't sacrifice style or practicality… You can have it all with this lovely, versatile sweater!
I just adore the detachable cowl!!
Some Specs:
Sizes:
XS (S, M, L, XL, XXL, 3XL, 4XL).
Materials:I used Primo Worsted, by The Plucky Knitter (Merino/Cashmere/ Nylon – 100g/200 y): 6 (7, 7, 8, 8, 9, 9, 10) skeins. You can use any worsted weight yarn that you love :)


And now, some other ways to wear it:
Sans cowl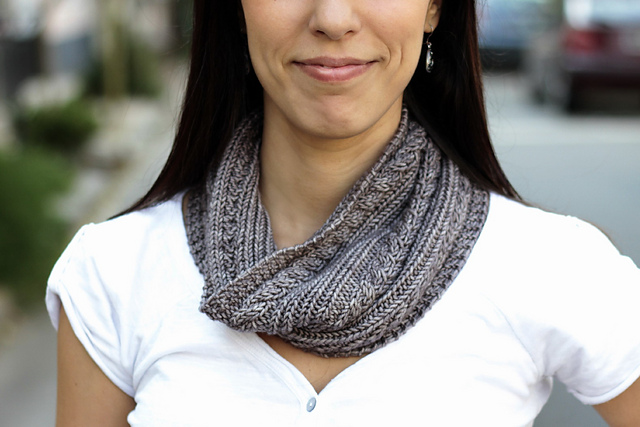 Or sans sweater :)
Hope you guys like it!
~Joji