As some of you may know, I work for a very lovely yarn store in Buenos Aires. It is called
Milana
, and it was my favorite yarn store since I started knitting. Two and a half years ago I was offered a job there and it immediately became my dream job.
I do a lot of things there, though I am actually very little time at work. And among other things, I help design new products and find suppliers.
So a couple of days ago we decided we were going to sell faux-fur sweater fronts
(Clarification: faux fur is 100% synthetic and no animals are involved in its production)
. I cannot find a picture of exactly what we are trying to make, but it would be something somewhat similar to this: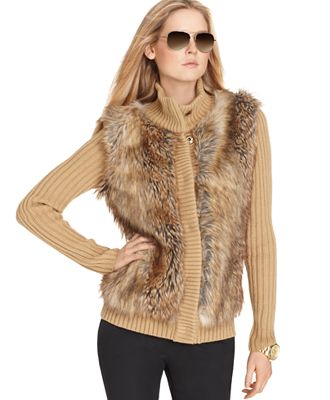 So we found a supplier of ecological fur and I had 2 samples made for us. I need to knit a sample and make a small pattern for the customers to see how a sweater would look like using these fronts, and I am quite nervous about it!
This is not my knitting style at all. I think I would happily wear something like this, but this is totally out of my comfort zone when it comes to knitting. I hope I don't screw it up!
The yarn I am going to work with is called Mapuche. It is a wool/acrylic/llama blend that sells really well at the shop. The color is very beautiful, it is a heathered beige that has some brown, gray and white fibers blended in. Really matches the fur I am going to use.
So if I can get a nice sample done, then we'll be ready to sell them. Wish me luck!